Dog or cat, family pet, bird or other animal, custom pet portrait art from your photo.
Pet portraits are wonderful gifts.
Pet portrait artist Diane Jorstad will hand paint a custom portrait of your family pet. Subjects can be a variety of animals from dogs, cat, birds, horse and more. Mediums choices are, oil on canvas/ oil painting/ or colored pencil on watercolor paper/illustration board or a mixed media painting. Jorstad will work with you to get the quality portrait you are looking to have in your home. You will see that Jorstad is talented in a variety of subject matter such as landscapes, still life, floral, homes and can paint a background of your choice to go with your pet portrait. To see more artwork and information link here.
http://www.dianejorstad.com/pet-portrait.artistDogCat.welcome.htm
If you are looking for an freelance commission artist, please check Diane's art.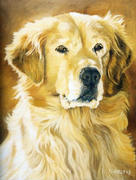 Please check my web page
'www.dianejorstad.com'
for more photos of finished pet portrait artworks and much more information about pet portrait artist Diane Jorstad.
Diane's artwork includes pet portraits, people portraiture, still life art, landscape /scenic, floral/flower artwork, portraits of your home or church in oil paintings, colored pencil and pastel.